Shanghai
What's worse that arriving at Shanghai to find the
Oriental Pearl Tower
partially obscured by mist?
Click here for large size image
Arriving at Shanghai to find the Oriental Pearl Tower completely visible- that
thing
is an eyesore.
Yeah I'm back in Shanghai for a short while.
On Saturday, I went to the western bank of the Huangpu River to get a look at the skyscrapers of Shanghai's commercial centre. This particular section of the western bank is known as The Bund, after the bunds (floodwalls) that contain the Huangpu's waters.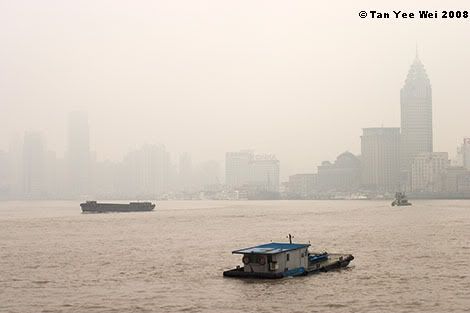 Click here for large size image
Dense mist that day made it nearly impossible to get anything interesting out of the scenery- distant objects were too fuzzy, and the colours were made dreary by the light-scattering mist. A reasonably bright coloured barge was used to give the images a bit of bang, but the success of this rescue attempt is questionable.
I then took a long ride on the light rail to the end of Line 6 in search for the Yangtze River. The terminus was located near a port/ container terminal, which I thought would make for an interesting visit. But I neglected the fact that most ports, if not all, are not for public access.
Walking around the small lanes and backstreets of the area, I came across a vegetable patch located next to some houses and bounded by a container yard on one side.
Click here for large size image
Super-Takumar 50mm/1.4 at full aperture
By then, it was close to 6pm, and the light was fading. A light drizzle convinced me it was time to get on my way back to central Shanghai.
Labels: China, photography