Beijing - a brief summary in photographs
Wangfujin is a commercial street located East of Tiananmen Square. Along a portion of the street, various food stalls are set up selling a strange assortment of food.
Starfish and Bee Cocoons
Click here for large size image

Starfish and bee cocoons (on skewers located in trays behind the starfish tray) are available...
Click here for large size image

...together with disturbingly large centipedes.
Click here for large size image

The last time we visited, this river was still frozen solid. A few of the younger cousins looked for large rocks to throw on the ice in hopes of breaking it. They were not the first ones to try- several chunks of stones, concrete and bricks indicate previous failed attempts.
A surprising number of people were on a bridge taking photos of the Bird Nest. However, with the number of street lights and wires in the way, i decided to screw it.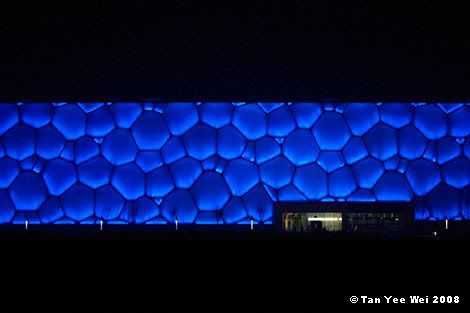 The Water Cube
Click here for large size image

We came back at night to find the the National Aquatics Centre illuminated. While the buildings are completed, work is going on for the landscaping around the stadiums.
Click here for large size image

Labels: China, holidays, photography