Photographs from the Melbourne Commonwealth Games- Rugby
caution: moderately large sized photographs. Exercise patience.
Over the next few days, expect very little written substance at this little sector of the universe.
David
is around so
we'll
he'll be performing the tourist rites while I join in the fun.
We went for the rugby sevens (7 a side as opposed to 15, for fast paced action) this morning, and it was quite interesting. The Fijians seem to play with a beautiful flair, while some non-superpowers got it really bad, like the Australian-Sri Lanka match that ended 73-0.
The matches were scheduled to start at 10.30am, which they promptly did.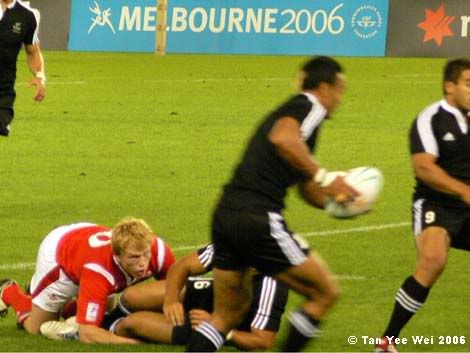 New Zealand (in black) ran circles around Wales to finish 35-10.
Gasp! Look at those things!
Specifically, those telephoto lenses.
Samoa (in blue) out-stretches Uganda to win 31-10.
Fiji defeated Niue Island 63-0.
Photography
Labels: Melbourne, photography