Found: cheap, used optics for sale in Melbourne
I usually find shopping to be an annoyingly dull affair. If
that particular male-female stereotype
is true, then I'm glad to be single.
But then, that's because most leisure shopping
somehow
involves clothes and shoes- not my idea of cool.
***
This afternoon while on my way to freeload on
Racecar Engineering
magazines at a bookshop, I noticed that a particular used camera shop was open. I've walked past this places many times, but it had always been closed. Its window were always a little grimy, with some ancient cameras on display. These too were a bit dusty.
In the small, dimly lit shop, two tables dominated the floor space, on which boxes of merchandise were stored. These boxes were filled with ancient flash bulbs, little flash cubes, various unidentified circular parts from all sorts of cameras-probably related to the optical elements, filters and flash guns.
Filters! One box was entirely dedicated to various filters, many made redundant by digital photography. By far the most popular sizes were the 49mm and 52mm ones- these were all screwed end-to-end to form 2 tubes of about 10 inches each. Two 10-inch stacks of filters!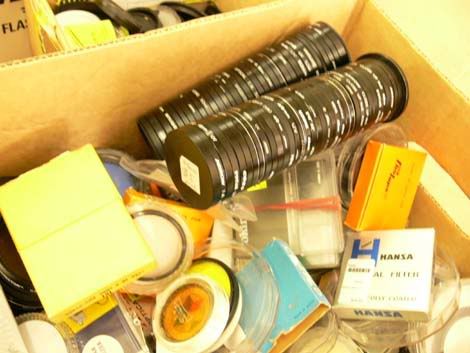 Most of them were UV, skylight and yellow filters. Skylight is a slightly pink filter to warm the colours, and yellows are used in monochromatic photography to improve contrast between the sky and clouds. UV remains popular as it is colourless and is often used as a lens protector.
There were not many 55mm items available; it's not a very common diameter. However, I did find a step-down ring that would convert the 55mm thread to a smaller 49mm thread, thus making the aforementioned 10 inch stack of optical elements available for consideration.
I settled on a Hoya 55mm – 49mm step ring, and a 49mm close up lens that is basically functions as a magnifying glass for macro shots, at $5 each. Had thought of buying a stack of 3 of these lenses, but the small diameter makes itself felt at the corners of the image, so I only have one at the moment.
I also saw a used 49mm polarising filter going for A$20, much cheaper than the brand new 55mm Hoya I acquired for RM110. Pfft!
Here are my various lens attachments so far: a UV filter, a circular polarizing filter, a 55-49mm step ring, a close up no. 2 lens. Yeah, that so looks like a 'C-cup'.
There was also a curious little artefact from the pre-digital age: a 49mm piece of Hoya element that looked like part of a 3-sided pyramid. The effect was that the image is duplicated 3 times, and looks like a pie chart split into 3 equal portions. I actually intended to simulate the effect using Photoshop, but midway through the process Photoshop managed to crash, and I've lost motivation.
I found out their opening hours: 1pm to 3pm, Monday to Friday. WTF!? No wonder I've never seen this shop open. Who bothers to go into the city when there are lectures and lunch to concentrate on? Well I do not have lectures now…
I just realised I grabbed the wrong lens- its close-up No. 2, not a No. 4 as intended. Will probably go change it tomorrow. Failing that, maybe buy the No. 4 lens too.
***
The shop is along Little Lonsdale Street, between Swanston and Elizabeth Streets. It is just a bit uphill of the doors leading into Melbourne Central.
Personal
Labels: photographic equipment