Shopping therapy is a real phenomenon; photographs of a Tokina 28-105mm f/4.0 Pentax K mount zoom lens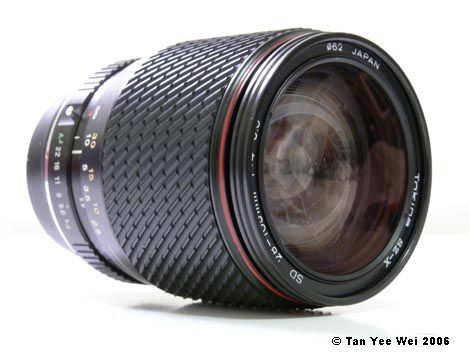 Click here for large size image
Some weeks ago, I borrowed a Canon EF 28-80mm lens to experiment with some
photographic microscopy
. Since then, I have been looking around on Ebay for a cheap, clean lens that must be at least as wide as 28mm. A wideangle Canon EOS kit zoom lens would work nicely, and also give me an extra lens
if
when I move into the Canon SLR realm. However, used 'cheap' kit lenses still sell at prices above what I can afford. Factor in the postage charges and the damage gets pretty nasty.
Yesterday, I went to a small
used photographic equipment shop
to try my luck. Fortunately, they were open.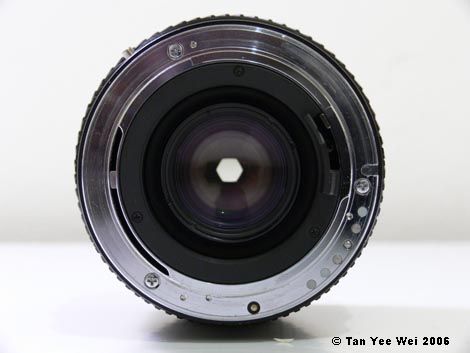 Click here for large size image
The proprietor took out several small cases of lenses, and opened each lens bag to reveal various optics from an era far removed from the present. I pointed at a mysterious lens in the glass case, and asked in Cantonese, "what about this one, this one with the Ricoh cap?" It looked promising, not too old as to be fungus infested, with the right proportions to be a wide-angle lens. The man took it out of the box and undid the lens caps to reveal the immaculate glass within. Around the front edge of the front element, a string of numbers caught my eye: 28-105 mm 1:4-5.3 Ø62
It met my first requirement- to be at least as wide as 28mm. It also surpassed the Canon kit lens' telephoto range by going up to 105mm. It was reasonably fast, with a maximum aperture of 4.0. And the front element is huge, with a screw thread diameter of 62mm.
Click here for large size image
Click here for Deviant Art entry
Technicalities aside, it was also beautiful, not in an arty and aesthetic manner but a brutal functional beauty, the same kind of beauty one finds on the ugly curvaceous aerodynamic surfaces of a Formula 1 car, the kind of beauty that gets inscribed on by precise metal forming processes and careful designing by a roomful of engineers. The lens body was entirely made of black metal, and a red band around the front end of the lens gave it a bit of character. The zoom and focus ring had a ridged black rubber grip with helical grooves. And it had a direct, mechanical aperture control ring, made of metal, inscribed with an almost ethereal string of numbers.
Click here for large size image
I looked through the lens, and the glassware was acceptable with only slight blemishes in a few of the internal surfaces. The metal aperture ring turned with precise clicks, and six blades within the lens opened to reveal an increasingly larger aperture. The focus ring turned with a fluid action, smoothed with some sort of vicious damper within the housing. Pieces of glass danced to steps precisely choreographed by grooves in the rotating housing, and the focal distance changed accordingly.
To cut an already long story short, I purchased it. It came with a 62mm skylight filter which I had no need for, so I had it swapped for a 49mm close-up No. 4.
Click here for large size image
Photographs
Interesting reads
Labels: personal, photographic equipment, photography