My Porsche 911 GT1 and Ferrari F40 scale models
Years ago, when time was not at all a problem, I would carefully paint and assemble scale models of good looking cars.
For a student surviving on pocket money, it was a rather expensive activity to pick up. A decent kit from Tamiya would cost about RM50 to RM120, depending on the kit's intricacy and release date of the kit.
Modelling cement used to attach the parts cost about RM 8, and lasted a long while.
The biggest hidden cost lies in the paints. A small bottle of paint sold for about RM 9. While each bottle can last ages, one can imagine that it's impossible to make anything decent with only three colour. (Please don't tell me about combinations of RGB. There are also surface finish varieties such as metallic, matt, gloss and dull)
I started with jet fighters, but then I somehow migrated over to cars. Cars are a lot more fun, since there's an element of familiarity in them. There's the brake assemblies, the kingpins on which the front wheels attach to, suspension arms, spring-damper units, the suspension sub-frame, drive shafts, gearbox, engine block, intake and exhaust manifolds, turbochargers, intercoolers, brake cooling ducts…
And in putting the various pieces together one gets a feel of how things work together to create Le Mans winning machines.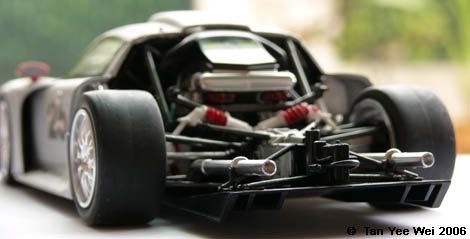 1:24 scale model of the1996 Porsche 911 GT1 with engine cover removed
1996 winner of the GT1 class at the 24 Hours of Le Mans
Horizontally opposed 3.2 litre engine with twin turbochargers and intercoolers
600 bhp
6 speed longitudinally mounted gearbox
Rear suspension members directly mounted to gearbox with inboard springs and dampers
1:24 scale model of the Ferrari F40
3 litre V8 engine with twin turbochargers and intercoolers, 110 kPa (1.1 atm) boost pressure
478 bhp
5 speed longitudinally mounted gearbox
Initial production run limited to 400 units, but extended to 1315 by popular demand
Photography
Personal
Labels: personal, photography