Sofitel Melbourne- possibly Melbourne's public toilet with the best view

Sofitel's Loo
Click here for large size image (206 kb and about 3 screens wide)
Click here for Deviant Art entry
Horizontal angle of view: ~140°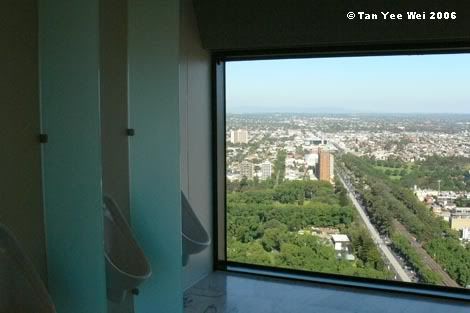 Sofitel Melbourne
is located at 25 Collins Street, near the intersection of Exhibition and Collins Streets.
To access this washroom, take the lifts at Sofitel's lobby up to the 35th floor and turn left upon exiting the lifts. The toilets are a short walk away on the right side.
The window faces approximately 15° south of East. The angle of view is a little less than 180°.
Visit
this
for sun and moon rise times and azimuth angles in Melbourne, published times
not
adjusted for summer daylight saving.
Photographs
Labels: Melbourne, panoramic, photography