I am back, with photos
I'm back from a weekend away. The Computer Engineer, The Two Architects and I rented a car and scooted off to a neighbouring state (SA) for two nights.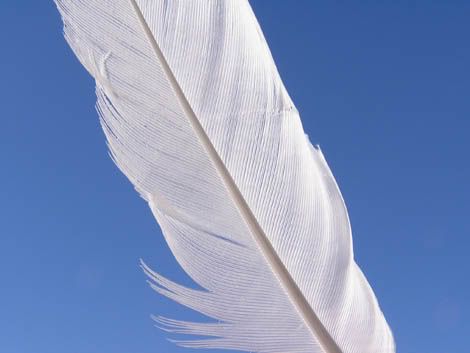 A Feather in the Wind
Click here for large size image
Click here for Deviant Art entry
The daily rate for a Toyota Corolla 1.3 was $40; the Toyota Camry 2.2, $45; the Ford Falcon 4.0, $50. And no one wants the Hyundai Elantra. The choice was obviously for the 4 litre Ford. [
car related discussion continued below
]
The place of accommodation at Mt Gambier was an upmarket one, but shared among us the price did not cause anyone to die. It was a house rented out on daily basis, complete with:

Dishwasher
Washing machine
Iron and ironing board
A crystal decanter of red wine and a pair of little crystal goblets that rang melodiously when pinged.
Microwave oven
Convection oven
Cutlery and dishes enough for 8 people
Coffee plunger and corresponding grounds in the fridge
An outdoor spa with heated jacuzzi pool
A baby cot
Enough beds for 6 adults
Lace curtains
Velvet curtains
An ancient standing piano that appears to work fine
For breakfast, we found in the fridge bacon, eggs, orange juice and milk. In the kitchen was a loaf of bread, a block of butter, 4 types of cereals in neat plastic containers, a nice wooden teabag box with more than 12 types of tea, not to mention the plunger coffee.
The Rose and the Goblet
Click here for large size image
Click here for Deviant Art entry
At $200 per night, it works out to $50 per person per night, compared to about $25 to $35 per person per night in backpackers' hostels.
The region had many geological features, mostly pertaining to the limestone substrata and ancient volcanic activity- there are caves, aquifers, craters lakes and sinkholes. Probably the most prominent lake in the region is the Blue Lake, which indeed becomes a magnificent shade of blue in the summer months.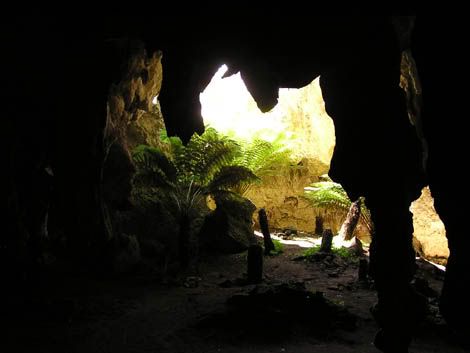 A limestone cave at Naracoorte
Click here for large size image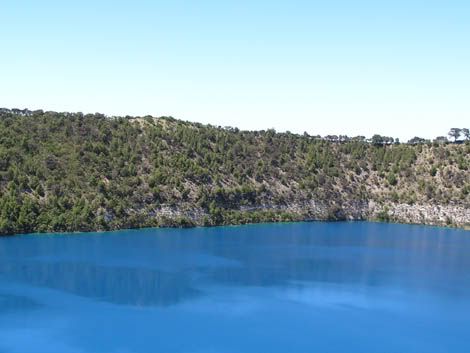 The Blue Lake is really blue
Click here for large size image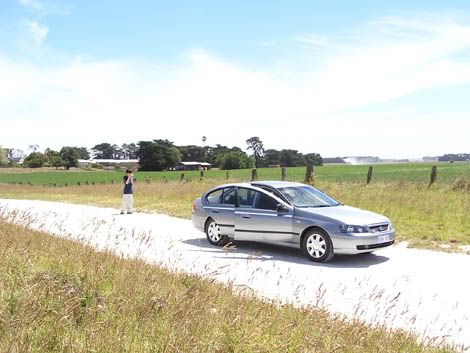 The Architect, The Falcon and The White Road
Click here for large size image
In search for some less popular attractions, we travelled along some unpaved roads, whose gravel appears to be of limestone origin due to the whitish grey colour. It was a refreshing contrast to the usual black strips of tarmac we see all out lives. The Architect is seen here taking photos of the scenery to the left of our rented Ford Falcon. The photograph itself has not been digitally manipulated; the exaggerated whiteness of the road surface was achieved by adjusting the exposure compensation to +1.3.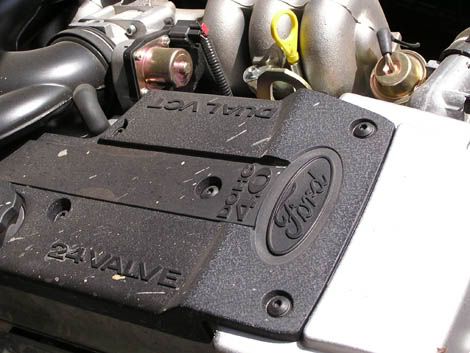 Click here for large size image
24 valves, Double Overhead Camshafts (DOHC), 4.0 litres with double variable cam timing (VCT). Pity it's not a manual gearbox or it'd be wicked (with the English inflection for emphasis).
It appears that apart from the company, the most interesting things about this trip were not the sights, although they were very wonderful. The interesting bits seemed to be the photography, winding rapidly through deserted C-roads, and of course, unruly behaviour in a gravel parking lot.
Now that I have a digital camera with me, I seem to be dumping photos here rather than really writing stuff. I'm still not sure if this is a positive or negative progression. Regardless, I do not intend for this to turn into a pure photoblog; I still have my mathematics, physics and writing. Which reminds me I need to learn about tensors and metrics to be able to go further into relativity.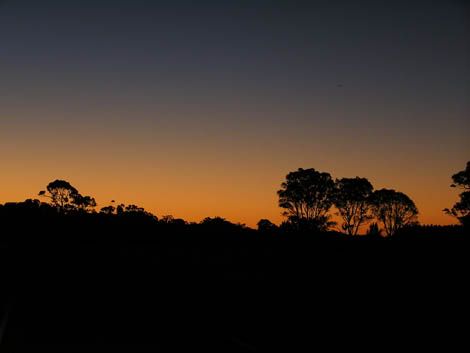 Click here for large size image
[
car related bits continue here
]
At first, the Ford was not easy to get into. The brake pedal feels squishy like it rides on a bed of sponges. The throttle response seems a little too non-linear. The car was large, large in an out-of-place sense of large. And the blind spots… the huge car has blind spots an entire can hide in.
Fumbling through the busy city traffic was not fun in a car with a squishy brake pedal and a non-linear accelerator. However, after a while, one tends to feel as if one has grown into the car, sort of like knowing where your limbs are without having to actually see them.
The brakes and throttle become controllable, having gotten used to the non-linearity. Instead of controlling the pedal's travel length, the brake force and acceleration itself is manipulated.
One begins to be able to place the tyres to a precision of 2 inches, to be able to brush the edge of the tarmac when exiting those fast C-road corners. To be able to slip between reflective road markers without actually bumping over them, straight-lining quiet roundabouts by whooshing past the entry, circular and exit kerbs with inches to spare.
Exiting a small gravel car park, I gave the car a squirt of full throttle while turning left. The engine jumped alive with torque, and the rear tyres lost their grip on the loose gravel surface. Catch it with a bit of counter-steer, and the car was reined back into normalcy as it unrolled itself on the springs. It was an interesting preview of what a large gravel trap could provide.
A reasonably sized gravel car park did materialise later in the day. Cruise in slowly, and start to turn in. Blast the throttle to break the traction, and the rear end starts to slide away. Catch it with a bit of counter steer, and juggle the brake, throttle and steering inputs. Empty gravel lots are deeply satisfying, to be able to quiet the occasional urges to slide sideways, but without the high speed and high power requirements of tarmac.
Photography
Personal
Labels: holidays, personal, photography