The Red Army Through Snow
The theme of today's photography session was red.
It was about 2pm, with direct, intense sunlight through the windows.
On impulse I splashed some milk onto the photography subject of the moment- a sparkling ruby of a strawberry. It was a bad idea- milk droplets clung onto the indentations of the berry, giving it an appearance of illness.
I gave up on that milk afflicted berry and grabbed a new one. This time, milk was poured into a wide plate before the berry placed into the puddle. A chilli was added later into the session.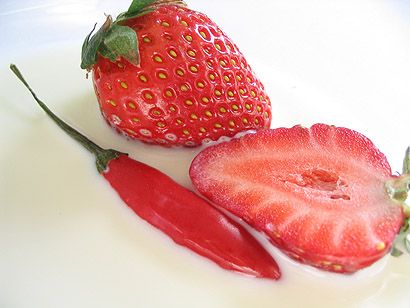 The Red Army Through Snow
Click here for large size image
Click here for Deviant Art entry
The good thing about having a thin (1mm) film of milk in the plate was that milk diffuses light very well. As such, the original harsh glare of porcelain is completely diffused by the milk. Also, the milk has a slight pearlescent texture due to diffusion of light, and shadows appear to be a little warmer in hue.
Another interesting quality about milk arises from the fact that it is a liquid, and thus forms a perfectly smooth surface. Unfortunately, being liquid has a drawback in that it is subject to surface tension forces. A meniscus forms around anything that happens to be in contact with the liquid, thus the surface is not flat at the edges of the liquid body.
Upon loading the images onto my hard disc and opening the folder, I was confronted by this splash of red.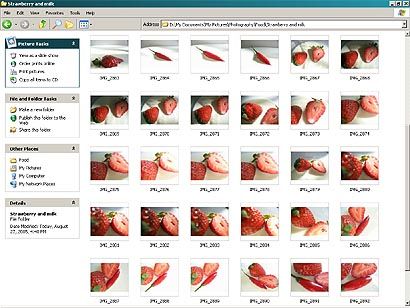 Click here for large size
Photography
Labels: photography