Blink three times, and another week is almost gone. Where did all that time go?
Oh yeah, I sold most of it to some consulting company for $
z
per hour, for which I received my first pay today. A portion of time was spent sleeping. The rest simply evaporated.
***

I've finally got hold of the slides of photos I took in Beijing. Now I know why professional slide film sells for RM 22 compared to the RM 10 consumer negatives. The colours are simply amazing.
Processing the film costs RM 25, and scanning would cost another load of money. So here I have a box of 36 slides with neither prints nor scans. A bit of optical black magic was used to obtain these images from the slides. By the way, the slides are the same size as film negatives - small.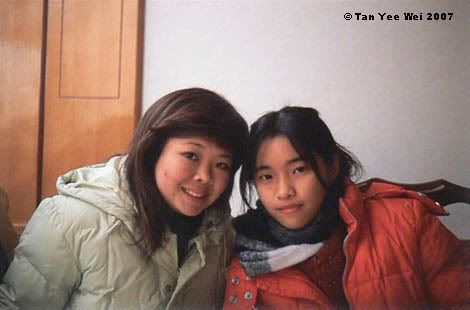 老张 and 小龙
老张
小龙
The Great Wall
Cosina 19-35mm f/3.5-4.5
A close up of the previous image
Click here for large size image
The prices in Australia are terrible. A shop I went to quoted $25 for a roll of Provia 100F, and $18 to process. Bloody hell, I can live with $18 processing and mounting, but $25 for the film is just obscene. Ebay comes to mind (and rescue)…
***

Blink nine times, and
5 years have passed
. Where did all
that
time go?
Labels: personal, photography