Today's directionless ramblings
I'm supposed to start work on the 15th, but I'm not really looking forward to it. More specifically, I am dreading to have to iron my shirts and pants.

On Monday, the firm called. Something crept up, and there was some expression of interest from Hong Kong. Would I be able to help translate something to Chinese?

For two days, I was busy surfing three dictionary/ translation websites in my attempt to translate phrases like building codes, service changeover, analytical techniques. I only hope the person reading it does not get a heart attack and dies clutching my document. He can die of a heart attack for all I care, but please not while holding my translation.


I've been in Melbourne for 7 days already, and not much has happened. I worked 2 shifts at the restaurant, which gave me a bit of spending money. A portion of it was spent on ebay buying a couple of adapter rings for my optical setup. Another $20 was spent on purchasing a 15-inch Sony television from a friend who would be leaving soon. So I have a TV now, but the Formula 1 season has not started.

Buy food for the week, one or two lunches outside… it's surprising how quickly $100 can start to evaporate. And I haven't even started on the grander things like that fast Asahi Pentax 50mm f1.4 lens, a light meter and a slide projector.

Back to reality…


I've been attempting a bit of fiction lately, but it reads rather like a dull piece of modern history of number theory. Seems like I've lost my bloody muse.


There are 2 things I would like to do once I have started work and settled into the rhythm:
Train in a form of martial arts
Learn to play the violin (not very sure about this)

When I was back home, I returned to my old Taekwando class for session. The agenda for the day was chopping-kicks and its application in sequences.

The chopping-kick is a very technical one, and requires a certain degree of flexibility in the hips to be able to execute it. Which was good, because I have both in decent quantity and the pace of the session was somewhat slower than, say, a turning-kick session.

A turning-kick session would have been no fun as my stamina and aerobic performance has been extremely low lately. Turning kicks without speed and abundance is just boring.

Chopping kicks are fun. Coil up the leg, and unfurl it towards the heavens. With the help of gravity and judicious momentum transfers, bring the foot of the extended leg crashing onto the unfortunate target, driving it backwards and downwards.


Earlier this afternoon I was experimenting with a different approach to my light box, and made these shots.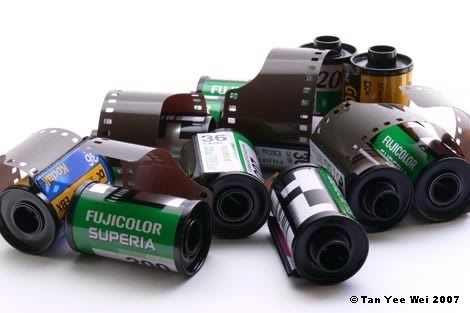 Find the Slide Film
Click here for large size image
Click here for Deviant Art entry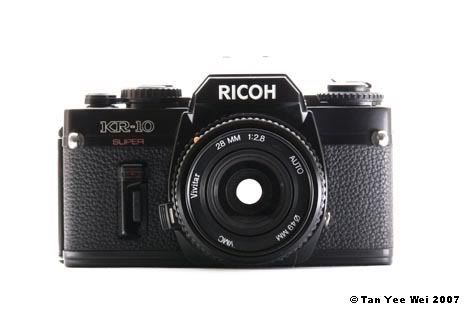 420mm, 1/20s, f5.6, ASA 80

Click here for large size image
I quite like this one, it looks very much like what an engineer/draftsman would produce if summoned to make a front view/projection of the Ricoh KR-10 Super. Like a blueprint, there is no sense of depth- you cannot visually gauge how far the lens is ahead of the camera body. This was achieved using a very long telephoto lens (equivalent to 420mm).

Streaks in the Sky
Click here for large size image
Click here for Deviant Art entry
In December 2005, my family and I took a leisurely 10-hour drive to Sydney. Along the way, I snapped a sequence of images intended for a panoramic conversion. Well, now that I have the software, this is it.
Labels: panoramic, personal, photographic equipment, photography