New car- to be sad or happy?
My parents have recently confirmed the purchase of a Toyota Corolla Altis 1.6 to replace the Toyota Landcruiser Prado. I don't know to be happy or sad.
Reasons to be happy:
We're getting a new car. We will get to breath in the 'fresh car smell', which is in fact due to all manner of potentially harmful inorganic solvents used in the manufacture of various components- glues, plastic wraps, dashboard, seat filler material et al.


The Altis will definitely use less petrol than the Prado. The Prado is a heavy vehicle with ungainly aerodynamics. It also has a (comparatively) huge 2.7 litre engine, compared to the Altis' 1.6 litre with VVTi.


The Altis has better performance than the Prado.


My mother will be glad that it is an automatic transaxle.


The Altis will be in a spanking black colour.
Reasons to be sad:
I love driving the Prado, for all the wrong reasons. It's got a clunky manual gearbox, a heavy clutch pedal, soft suspension that will squat and dive with every touch of the throttle and brake, not to mention roll when steering. It's precisely these that make it an engaging drive- it's extremely difficult to drive really smoothly. And I've mastered it. (At least I think so.) Last CNY, I drove my family along the back roads from Kuala Pilah to Malacca. Being smooth on roads sprinkled with fast straights, sharp hairpins and long blind curves was a challenge, and my parents remarked (it's quite a rare occasion) that the ride was a gentle one (I was actually going quite fast).


The Prado can do drifts if you give it the appropriate patch of gravel. Being a rear wheel drive vehicle, it's not hard at all to get it into opposite lock and hold a slide. There is no way a front drive vehicle can execute a sustained slide.


The Prado allows me to play with the gearbox in perverted ways, such as heel and toe gearshifts, double clutch heel and toe, and even shifting gears without using the clutch. And yes, I tend to me smoother when I heel and toe, difficult as it may sound.


The Prado is already in black anyway.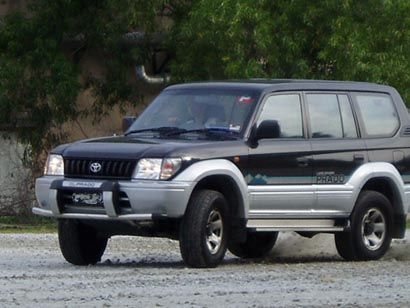 Sideways with a hint of opposite lock. Click on image to enlarge.
In conclusion, my reasons for sadness are purely selfish and ego-centric. I suppose that the only way to satisfy my perverse preference for complicated gear changes would be to get my own manual car and not depend on my parents. Maybe that is their strategy all along…