Beijing Capital International Airport/ Dinner with Jolene Lai/ Guilin photographs
I'm back online!
My absence over the past three weeks can be attributed to a fortnight-long visit back home (to sort out my working visa, not a holiday) and then a week-long holiday in Guangzhou and Guilin with Jean.
From Tianjin, I flew to Kuala Lumpur via Beijing. The new Terminal Three of the Beijing Capital International Airport is mind boggling, jaw droppingly huge. I have seen images and articles about the new terminal, but nothing can prepare one for the shock of actually entering that structure.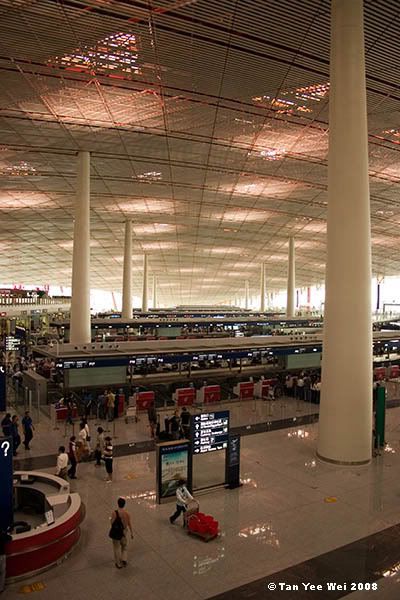 Click here for large size image
These two photos were taken about midway along the length of the departure hall.
\

Gate E09 within the satellite building.
I was trying to be cute and hoped to get a photo of E6, but it was E06 so that was not as fun
ps. E-6 is the process used to develop colour slide film.

To get to the boarding gates, passangers take a short train ride to a satellite building (just like in the KLIA). This building is another exercise in collosality.
In the klang valley, I finally met
Jolene
! She is every bit as interesting as her blogging persona. We took a drive to Klang for some seafood (deep fried butter prawns and peppered clam soup).
For my brother's 21st birthday, mom made some strawberry tarts. A light buttery cup, with a bit of dark chocolate spread around the bottom, then filled with frech custard (home made- not stirred from milk and custard powder; the real stuff is GOOD), and topped with sliced strawberries. The shiny liquid on top is a bit of strawberry jam just to give it a bit of a sheen.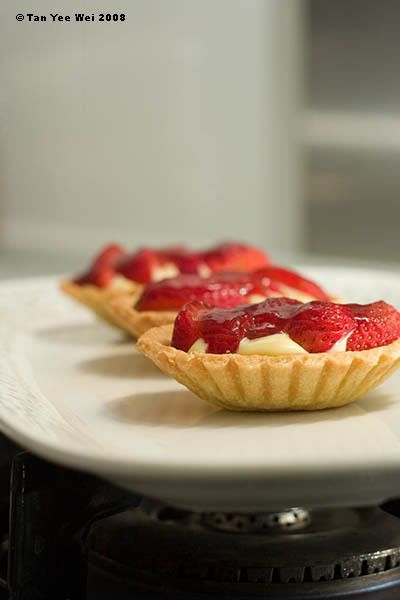 They were heavenly... *swoons*
Last Thursday on the 12th, I took a bus to Singapore (where I managed to persuade a 2 year old with a fearsome reputation for not letting strangers touch him to let me carry him *prouds*), then took a flight to Guangzhou. After a few days in Guangzhou, it was a 45-minute trip in the air and we were in Guilin.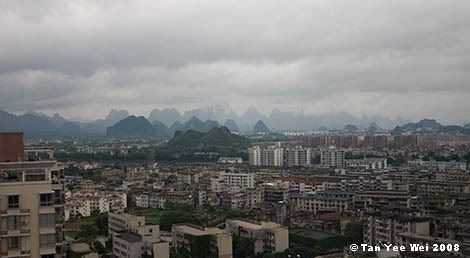 Look at the mountains!

Click here for large size image
Guilin is beautiful. The air is clean, there is lush greenery everywhere (even the grass on the kerbs are beautifully green). Guilin is also famous for its karst landscape, the stuff you see in paintings. It is a little like our own Ipoh (clean and surrounded by lumpy mountains), but much, much more beautiful.


Click here for large size image
Guilin has plenty of fantastic scenery due to the abundence of mountains, greenery and rivers. Unfortunately, it was drizzly and rainy while we were there so we missed out on a lot of those sights. In a way we were fortunate- if we were there one or two days earlier it would not be mere drizzles but torrential downpours. The river's water level rose a good 1.5 m or so those days.
One of the rock formations within Guilin town resembles an elephant dipping its trunk into the river. Not surprisingly, it's named Elephant Trunk Rock.


Click here for large size image
A large, fantastically maintained park surrounds the rock, and the theme of the park is elephant (duh!). There are cute elephant statues you can do all manner of things with:


Click here for large size image


Click here for large size image
Steps are cut into the rock to allow tourists a safe climb up that thing:
There were a few other attractions in Guilin, but with no photographs and a lazy brain (i've lost my muse), we'll just skip those.



Plane(s) of symmetry

Click here for large size image
When we left for Guangzhou, the flight was delayed by about 2 hours due to bad weather in Guangzhou.
Labels: China, holidays, photography