Work? Haha...you must be joking... :-(
It's another of those weekends- there's work to be done, but none actually done.
The Spanish F1 Grand Prix
is due to start very soon
has started, but the telecast on free Australian television will be 2 hours late.
I've taken the trouble to analyse the qualifying performance of the drivers, and below is a brief summary of my observations.
Pre-Spanish Grand-Prix Report- start line fuel loads
In the first qualifying run (Q1), drivers run on minimum fuel loads, while the second run (Q2) is conducted immediately before the race, and fuel tanks cannot be topped before the race.
Assuming that the drivers do their best on Q1 and Q2, the time difference between Q1 and Q2 will be indicative of the fuel load they are using to start the race. The start position is determined by adding their lap times in Q1 and Q2.
Below is a chart of the time difference (in seconds) between Q2 and Q1. Drivers are arranged by starting order.
If a car has more fuel, it can run longer before having to pit and refuel.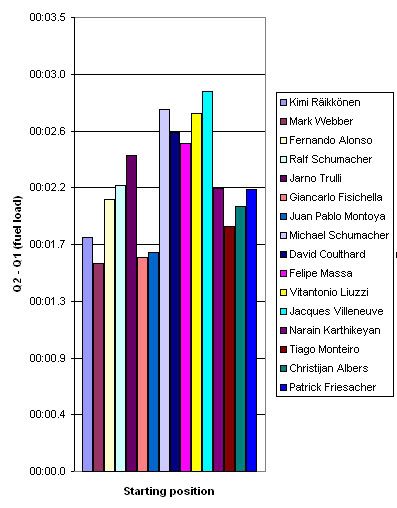 It appears that Kimi, Fernando, Ralf, Jarno and Michael are reasonably well matched in this respect. It is possible that Mark had tried to do a fast Q2 using less fuel, but messed it up and will start the race starting behind Kimi. Juan did not race for the past 2 races, and thus started Q1 very early in the session when the track was comparatively slippery. Hence, it is difficult to judge his car's initial fuel load.
Rubens and Nick did not run on Q2, and consequently will be starting from the last positions.
ps- a post-race report will inform you on the (in)accuracies here.