The Humble Administrator's Garden, Suzhou
For the past few weeks, I've been working in Suzhou on a particularly nasty engagement. As it's just 40 minutes away from Shanghai by fast train, I usually return to Shanghai for the weekends to tend to my little fashion boutique.
This weekend, however, I decided to stay around and look at one of the many famed gardens around town. These ancient gardens were mostly the playthings of some wealthy character or other, and have intricate use and separation of spaces. Very architecturally pleasing – a comment which is mostly untrue for modern Chinese constructions.
I was at the Humble Administrator's Garden. Was beautiful, though the crowd somewhat detracted one's appreciation of space by filling most of it with bodies and loud chatter.
Click here for large size image
One of the many bodies of water within the garden, with a covered walkway along one side.
These ladies were posing on the walkway for another camera next to me. I happened to have the 135mm lens on at that time and managed to squeeze off a shot before the scene melted.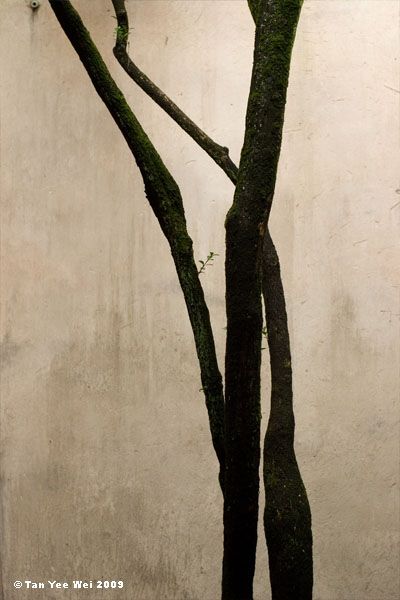 A tree in a courtyard
A tree with a vagina
*prods at map with pudgy finger*
"we are here, and that building over there is this. To get out we need to go this way."
*Drags pudgy finger along map*
After 9000 pudgy finger-prods the map fades, leaving a gaping white hole in place of the red "you are here" dot.
Elaborately framed openings are a common feature here. Most, if not all, are unique designs.
Click here for large size image
In the afternoon, it started raining. I hoped the rain would drive some of the visitors away, but most were well prepared.
Click here for large size image
Labels: China, photography