Updates; photos of my new place
Money cannot buy happiness, we all know that (hopefully).

Bargains can give the buyer a transient buzz that mimics happiness, hence the success of the capitalist economy in propogating itself. However, close inspection of this buzz shows that it is very unlike true love, transcendence or enlightenment.


Ok, so I got myself an ancient slide projector for $35. Slide photography (which is expensive and difficult to digitise) is now a bit more justified.

And I got an old but perfectly functional CRT monitor for $20. Colours will be displayed more faithfully than on the LCD. Photo editing is now a bit more justified. And I can expand the Windows desktop to span two monitors.




***



Cosina 19-35mm f3.5-4.5 lens with Kodak Max ASA 400 colour negative film

The 19mm's 90 degree hozontal field of view is preposterous; makes the place look massive. Totally worth the price of film processing and scanning.

Click here for large size image
Click here for large size image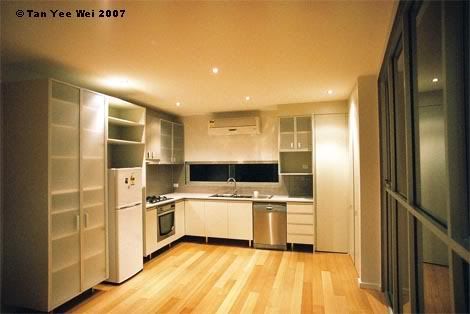 Click here for large size image
That was when we started moving things in. It's a mess now- 4 notebook computers and wires associated with it; a desktop with its wires and peripherals; a router and its network wires; a TV with connections to a Nintendo Wii, a PS2 and XBox 360; boxes of things, more wires...

Two of the consoles and some of the computing hardware are temporary residents, unfortunately.
Labels: personal, photography