Hanimex 400mm f/6.3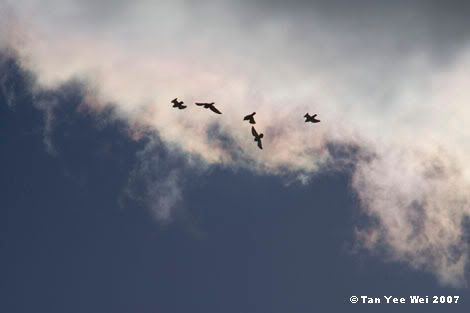 The Universe's Edge

Click here for large size image
Click here for Deviant Art entry
Due to the lack of anything better to do on a Sunday afternoon, I will write at length about my recently acquired lens.
Please close this window/tab if lenses do not tickle your fancy.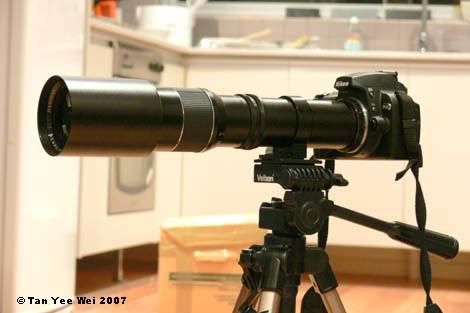 The Hanimex 400mm f/6.3 arrived on Friday, and it is a large tube of metal and glass.
With a tripod mount located mid span, preposterously long focal length and small optical sensor, this is one of the long-lens optical systems of my dreams. With an effective focal length of 600 mm on the Nikon D40 and 640 mm on the Canon 300D, this would give a horizontal viewing angle of approximately 3 degrees. The lens comes in a generic T-mount which can be adapted to various camera mounts.
The other optical system of my dreams is a camera mounted on a massive and ridiculously expensive reflector telescope on an equatorial mount and with appropriate solar filters.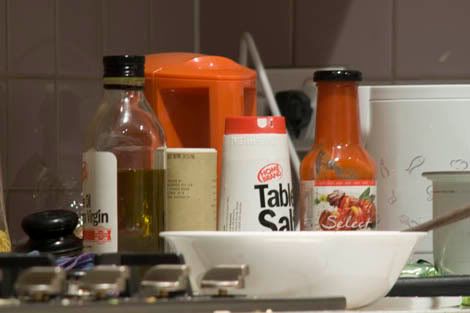 Taken from 8 m away, this scene was one of the first photos shot on The Architect's Nikon D40.


Click here for large size image
Outdoors, the lens' narrow viewing angle became even more apparent.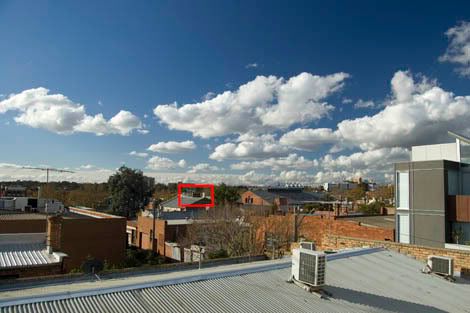 Click here for large size image
The Nikon D40's kit lens at 18 mm shows the difference between wide and tele. The area marked in red shows the region of the above image.
Despite the absurd length, tracking birds in the sky is not as difficult as initially assumed. They lens may be heavy, but the generous length offers plenty of holding places. Supporting it on the mass centre, it's actually quite comfortable to track moving objects. Nonetheless, tracking is not easy.
This can probably be improved by devising a finder-scope of sorts on the side of the tube. Astronomical telescopes generally have a low powered, large viewing angle scope on the side to help determine where the telescope is pointed. This telephoto lens might benefit from a simple set of protrusions in line with the left eye for two-eyed tracking- left for locating, right for framing.
Sadly, this lens has its shortcomings. Apart from the obviously inadequate light collecting abilities, the glass also suffers from low contrast and general fuzziness. The rear optical element has a thin film of dust or other contaminants which needs to be cleaned soon.
In terms of light collection, the length means that shutter speeds need to be to the order of 1/400 s for photos to be shake-free. Compared with your typical standard prime lens (50mm f/2.0), the standard lens allows 90 times (6.5 stops) more light in.
For a total of AU$36.40, it is still a good buy despite the serious flaws. Where else can you get a 400 mm lens for 2 digits? A brand new Canon EF 400mm f/5.6L would cost AU$2,319 while the much faster 400mm f/2.8L IS USM would cost a frightful $13,709.
On a seperate note, the
EF 1200mm f/5.6 L USM
was made to order with a price tag of US$90,000.
Labels: photographic equipment, photography